Fantastic FRED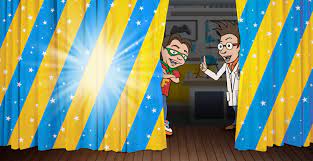 With half of all mental health problems being established by the age of 14, the younger we help children to build emotional resilience the more likely we are to prevent mental health challenges developing when they're older.
The Fantastic Fred Experience teaches children that by thinking about their relationship with four aspects of life: Food, Rest, Exercise and Digital devices, we can help to build healthy foundations to help their mental health. It's presented through a live, interactive performance which has been touring primary schools, supported by the Windsor & Maidenhead Mental Health Support Team.
FRED has created a series of tips for children and their parents/carers to enjoy a balanced and healthy festive season:
🥦 Food
Eating a range of foods & avoiding too much processed food can support everyone's brain for emotional wellbeing, healthy growth, calm and focus. and get into your diet some protein, healthy fats, carbohydrates and a rainbow of fruit and veg every day.
Treats are fine occasionally, but sugary snacks and drinks can give us energy for a short time, but often leave us more tired and grumpy! So limiting sugar can minimise the tantrums that can happen after sugar crashes!
🛏️ Rest
It's important to make sure your child gets enough rest at this busy time of year. Perhaps do some activities with them that are more relaxing like baking. Holidays can throw routine off track, so try to stick to some form of routine if you can. Don't overschedule plans, and make sure everyone has time to rest.
⛹️‍♀️ Exercise
Over the Christmas period, it can seem difficult to get out with our children and get everyone's bodies moving. But exercising can improve mood, increase energy, promote better sleep, and improve memory and brain function. There's lots of fun things you can do to get your child moving. Why not try having a walk to look at the Christmas lights, putting on some music for a dance, creating a sports day at home, or relaxing with a yoga workout.
📱 Digital Devices
Using devices and gaming is fine, in moderation. Here are some tips on safe use of digital devices:
Don't let your child use a device for more than an hour a day, as it can upset them emotionally.
Get them to break up screen time with other activities.
Make sure there's no screen time before bed, and screens are kept outside the bedroom.
Play along with your child and build trust so that they will come to you if they feel worried.
Look out for behaviour and mood changes, and seek help if you're worried about your child.
The NSPCC has some great advice about keeping your children safe online.
Please visit our Mental and Emotional Health pages for more information and support on children and young people's mental health. 
Contacting us
If you or your child are having a tough time, it's important that you seek help. 
For all new referrals please contact our Children, Young People and Families (CYPF) HealthHub by completing our online referral form.
If you need to contact us urgently
If you have urgent/significant concerns about your child's mental health, between 8am to 8pm (Mon-Fri excluding Bank Holidays) please contact CAMHS CPE on 0300 365 1234.
Outside of these hours , please contact the Crisis Team on freephone 0800 129 9999. This number is for the 24 hours Berkshire Adults Mental Health Crisis Team. This team supports adults in mental health crisis but are able to take calls from young people and parents/carers, and offer advice and direction to support you and your child.