Health Visiting
Health visitors are registered nurses and midwives with an additional community public health qualification. We offer support and practical advice on many aspects of child development as well as family health.
The Health Visiting Team works in partnership with children and families, as well as other professionals such as health, education, social care and voluntary organisations to provide health support which is tailored to individual needs. Our skill mix team comprises of staff nurses, registered nurses with training in maternal and child health, and nursery nurses who are qualified in child development and have relevant training in child-related issues such as sleep, behaviour issues and healthy eating.
Read more about caring for your baby.
Visit the image below to open as a PDF: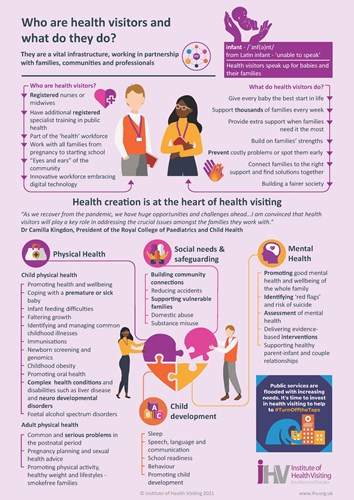 We can provide locally designed health visiting services for all families with children under five in Bracknell, Wokingham, Reading and West Berkshire. We aim to help children get the best possible start in life. As part of your local Universal Healthy Child Programme, we provide:
Appointments to review your child's health and development
Advice and support on subjects such as staying healthy, healthy eating and weaning, stopping smoking, feeding your baby, teething, immunisations, mental well-being and postnatal depression, your child's growth and development, sleep, behaviour, fussy eating, potty training and common childhood illnesses
We offer help for families and children who require additional support, for example with parenting skills, breastfeeding and childhood nutrition. We can also arrange support from other professionals.
Breastfeeding support
Berkshire Healthcare Health Visiting Service is proud to be accredited by UNICEF UK Baby Friendly Initiative.
You can speak with any member of our health visiting service if you need any support or help with breastfeeding. Our experienced staff will be able to listen to your concerns and work out a plan of care for you. This may be a home visit, an appointment in our breastfeeding clinics or some top tips to try at home.  Visit our infant feeding pages for more information.
Giving us your feedback
If you have used our health visiting service, your feedback would be appreciated as it will help us to develop and improve our services.
If you need to speak to one of our health visiting team, re-arrange a home visitor clinic appointment or speak to your named health visitor, please call your local health visiting service using the details at the top of this page, where they will advise you further.
During the Covid-19 pandemic we had to suspend our drop in Healthy Child clinics in line with government guidance. We are now offering the Healthy Child Programme through virtual or face to face contacts or at appointment only clinics.
The health visiting team will offer the following contact:
New birth Contact (Day 10-14): This first contact will be in your home with your health visitor
6-8-week postnatal contact: Our second contact with you will also be face to face, in a clinic setting with our staff nurses or nursery nurses.
9-12-month development review: This contact is being delivered face to face in a clinic setting with our staff nurses or nursery nurses
2-2½ year development review: We are currently offering virtual contact for these reviews but please keep checking for changes