Anti bullying week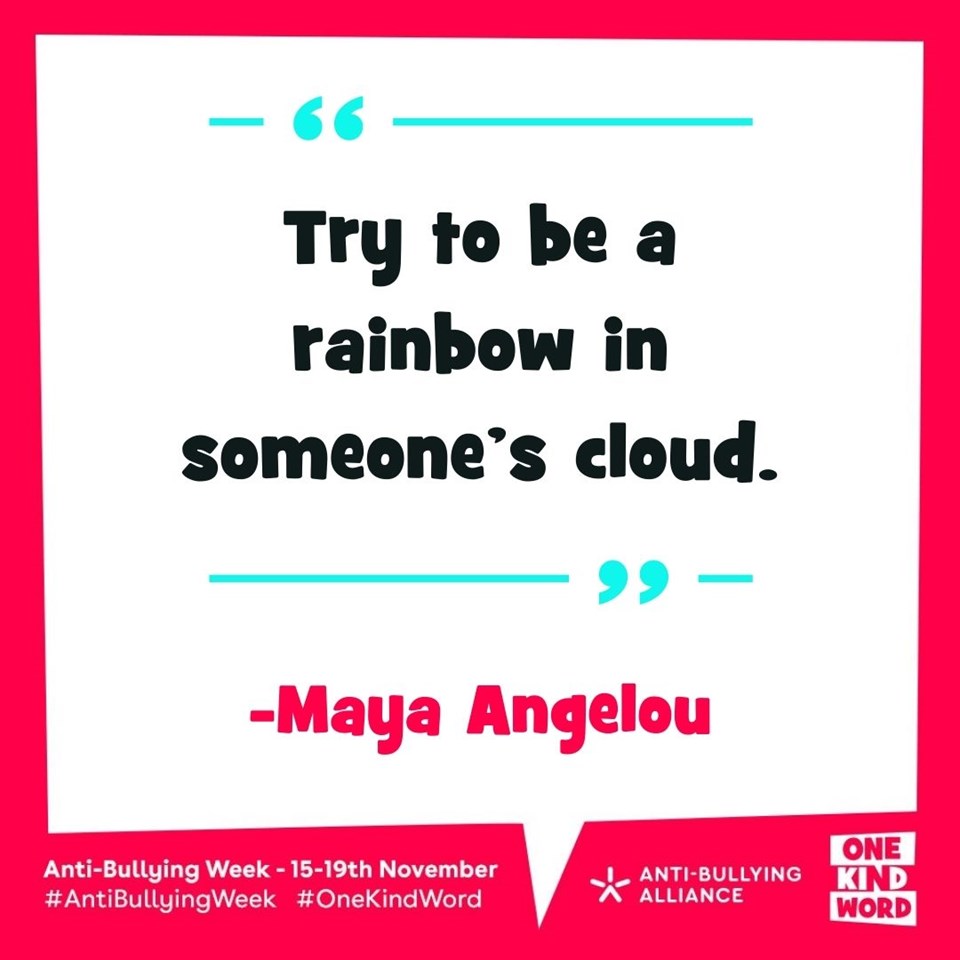 Every November schools throughout the UK take part in Anti-Bullying Week. This is a chance to shine a spotlight on bullying and think about what we can do to stop it. Our school nurses are on hand to support if a child is experiencing bullying, and we've put together this blog with some basic advice on what to do. At the end of this article, we've highlighted lots of places you can go to for support.
What is bullying?
The Anti-Bullying Alliance defines bullying as: "the repetitive, intentional hurting of one person or group by another person or group, where the relationship involves an imbalance of power".
This means any situation where your child is being deliberately and repeatedly hurt by other people.
Bullying can happen face to face or online; it can be physical, verbal or emotional. For example, your child might be pushed around by others, called names, or be excluded from friendship groups. Bullying can happen to anyone, of any age, race, or gender. Sadly, most children will experience or witness bullying during their school years.
When it's happening to you, it feels like it will never end. But the good news is, it almost always does.
How do I know if my child is being bullied?
Look out for changes in their behaviour. Are they becoming more quiet or withdrawn or acting up more than usual?
Are they reluctant to go to school or take part in activities they previously enjoyed?
Are they complaining of unexplained illnesses such as tummy upsets or headaches?
Is their sleep pattern disturbed?
Do they seem more sad or anxious?
When should I step in as a parent or carer?
If your child is on the receiving end of name calling or unkind behaviour, it's important to help prepare them for how to respond. Help them to work out a response to the comments. Discuss what they could do if someone wants to fight with them. Talking openly through scenarios will help them to feel more confident.
If your child has been seriously harmed or is at risk of serious harm this is a safeguarding issue and you should seek immediate help (eg call 999 and/or your local children's services team).
If your child has been on the receiving end of prejudicial behaviour because of their race or faith, disability, gender, sex or sexuality, even if this was a one-off incident and you don't consider it to be bullying, it's important to alert the school.  
What to do if you think your child is bullying others
If you've been told that your child is showing bullying behaviour, it's important to stay calm and ask for examples of the things they have said or done.
Many children who bully others are in a difficult place themselves. Talk to your child and help to explore how they are feeling, so that you can understand what led to their behaviour, and what needs to change. Work out with them what actions they can take to show that they are sorry, and make sure they understand the impact of their behaviours. 
How can I help my child to avoid bullying?
Model kind and respectful behaviour; you are your child's role model and they're always watching.
Teach them to recognise and stand up to unfair behaviour.
Describe to them kindness, respect, boundaries, laughter, forgiveness and trust so that they understand true friendship and have the confidence to stay away from people that don't make them feel good.
Help them to grow in confidence. Talk to the school to see what support they can give (eg a buddy or peer mentor system) and consider activities and groups outside of school (eg sports, Scouts and Girl Guides, arts and drama, martial arts, volunteering).
Role play how to handle difficult situations.
Establish physical boundaries. Help your child to understand that their body belongs to them, and that everyone has their own physical boundaries.
Make sure your child knows who else can help. This could be a friend, a family member, a teacher at school or another adult they know and trust.
Where to get help
ChildLine: ChildLine is the UK's free, confidential helpline for children and young people. They offer advice and support, by phone and online, 24 hours a day.  Call 0800 1111.
Direct Gov: Information for young people on cyberbullying, bullying on social networks, Internet and email bullying, bullying on mobile phones, bullying at school, what to do about bullying, and information and advice for people who are bullying others and want to stop.
EACH: a freephone helpline for children experiencing homophobic, biphobic or transphobic bullying or harassment: 0808 1000 143. It's open Monday to Friday 10am-5pm.
Victim Support:  support to young people affected by crime. Their Children and Young People's (CYP) Service also deals with cases of bullying; offering advice and working with professionals to ensure young people get the support they need. You can call their Support line for free on 08 08 16 89 111.
The Child Exploitation and Online Protection Centre (CEOP) maintains a website for children and young people, and parents and carers about staying safe online: Think U Know
Kidscape: information for young people 
Help from your school nursing team
You can also contact your local school nursing service to discuss this or any other health-related issues.
Or call our advice line, we're available 9am-4.30pm Monday to Friday on 0300 365 0010
Check out Bullying UK's great video on bullying and being kind.