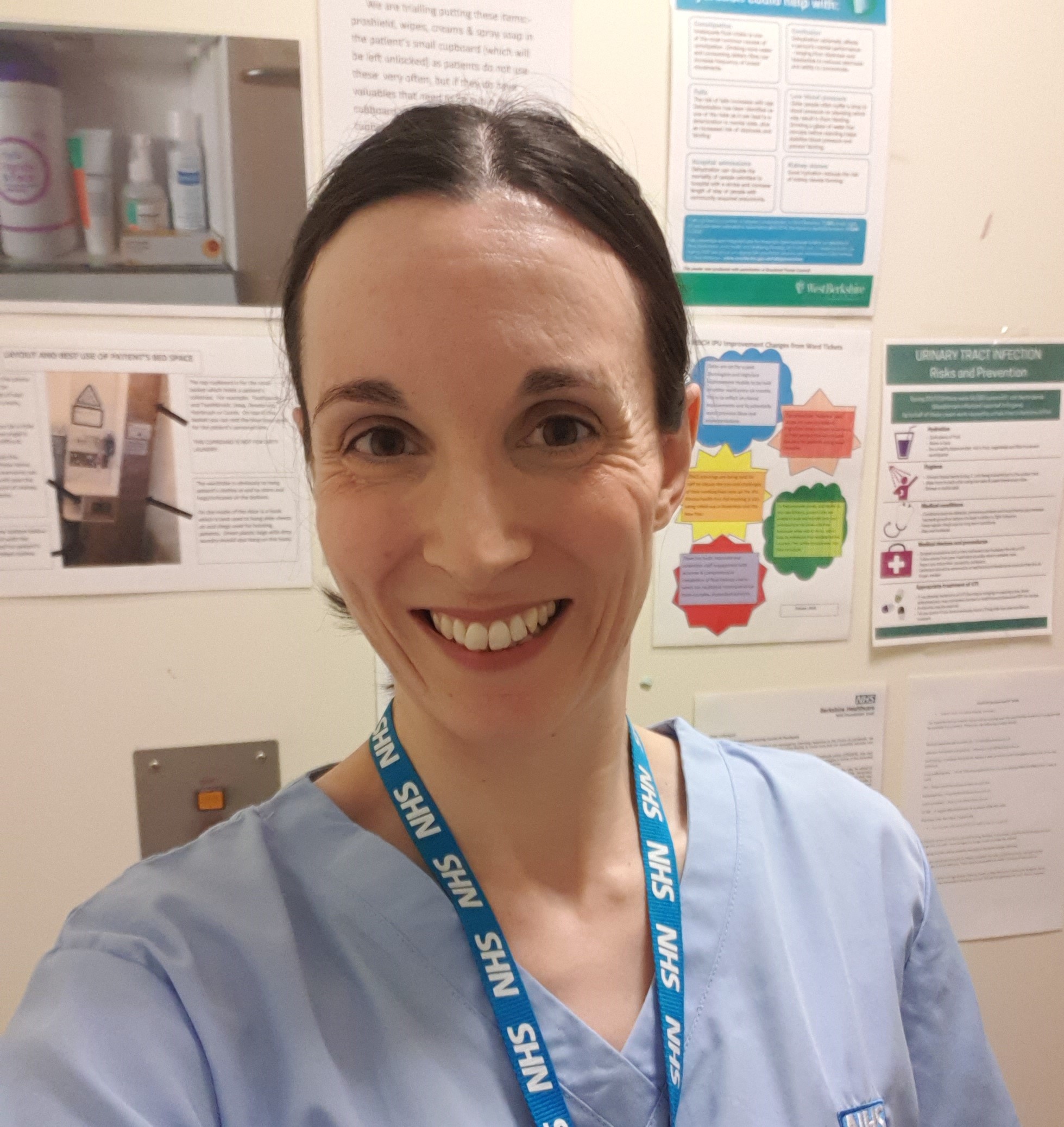 Tamsin is a paediatric speech and language therapist and Children and Young People's Integrated Therapies Early Years Operational Lead (Speech and Language Therapy Services) in West Berkshire. She volunteered to do additional hours on a ward to help support our teams during the fight against COVID-19.
She explains: "On Easter weekend, I took on the role of Health Care Assistant on Highclere Ward at West Berkshire Community Hospital.
"I was greeted with a warm welcome and after a short induction, started to get hands on.
"Although I have never done anything like this before, there were plenty of tasks that I could assist with, including moving beds, cleaning, assisting with personal care, putting together new patient files, making tea and handing out meals. PPE was available for me to wear and staff were available to answer any questions that I had.
"It took me some time to understand the patient's needs and how to be able to communicate and reassure patients successfully when they can't see you smiling or watch your lips move when you are talking to them. I started to learn some new skills, as staff demonstrated how to complete basic observations and how to record them.
"I've seen lots of posts on social media about headbands to attach your mask straps to. The mask really does hurt the back of your ears and if you are going to be redeployed, I would definitely look into the options. I was going to try and tie my hair into two side buns on my next shift but my sister-in-law has made me a headband. Before the shift, I was advised to change my clothes at the hospital before starting work and then again afterwards. It was suggested that my clothes should be washed at 60 degrees and that I shower and wash my hair as soon as I got home.
"It is really interesting to experience another side of the NHS. Although it was tiring, both physically and mentally, I was useful and the team on the ward were incredibly grateful for my help. I'm proud to be part of Team Berkshire."
Having enjoyed her experience on Easter Sunday, Tamsin is continuing to work additional hours on Highclere ward.
Life on the front line
It's a difficult time for everyone, and we're incredibly proud of how our teams and local communities are meeting the coronavirus challenge. We're sharing more good news stories and experiences from those working on the front line. 
Read about life on the front line
Find out more
Some of our services are changing due to coronavirus. You can find more information about these updates on our website.
Read about changes to our services
How you can help 
You can help us in the fight against COVID-19 by donating to our Just Giving Page, or by dropping off snacks and toiletries. 
NHS services up and down the country are being stretched to their limits and we need your help – you can do your part by signing up to the NHS Bank and working with us to fight COVID-19.