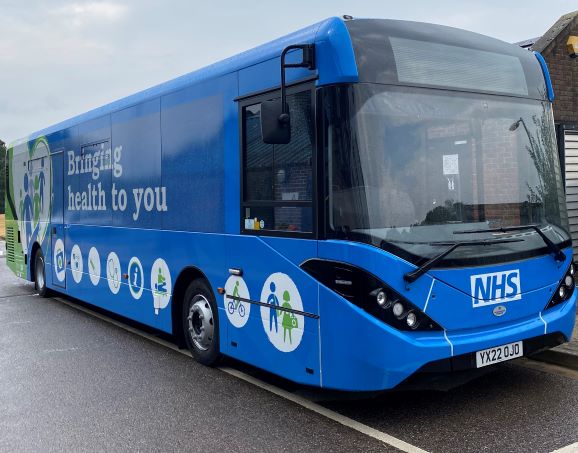 This Autumn, we are launching our very first Health Bus which will serve as a mobile health clinic, bringing our services direct to our local communities. 

From October, the bus will be helping the Trust to deliver immunisation services to school-aged children across Berkshire. The bus will be staffed by the Berkshire Healthcare Immunisation Team who will provide people with information on immunisations, particularly flu vaccines. The team will offer children and young people a flu vaccine and signpost to other services if needed. 

Karen Cridland, Director of Children Services, said: 
"Immunisations are the cornerstone of public health and help to save lives, however we know some communities do not access vaccination services in traditional ways. The Health Bus will enable us to reach children and families who do not routinely access mainstream services and provide a high-quality service close to home, in a welcoming and comfortable environment, with an opportunity to speak privately with a clinician about their health concerns". 
Bus facilities 
The bus features state of the art facilities, adhering to infection control standards and health and safety requirements. Folding tables and chairs allow for flexibility, making the space suitable for a wide range of services and functions. There is a private curtained area for people wishing to speak to a clinician in confidence, and a ramp to allow easier access for wheelchair users and those with mobility issues. The rear section of the vehicle includes a couch, table and chairs, and is a confidential consulting/treatment space which can convert to a sensory area to enable anxious people to access services in a calming space. An awning increases the space available and creates an undercover area next to the bus to protect people from the weather.  
Long-term plans  
In addition to being a mobile clinic for immunisations, the bus will aid the Trust in general health promotion on a number of important issues such as infant feeding, smoking cessation, healthy lifestyles, dental hygiene, sexual health education, speech and language development, and mental health awareness.  
 
The bus will also allow joined up and collaborative working with other stakeholders and partners across Berkshire to better address wider healthcare issues such as providing health education around early identification of symptoms for conditions such as respiratory illness or cardiac disease, breast cancer or bowel cancer, as early intervention can help reduce associated long term health costs. 
Find out more 
Read more about the Health Bus, including which locations it will be visiting, on our Children, Young People and Families service website (opens new browser tab).