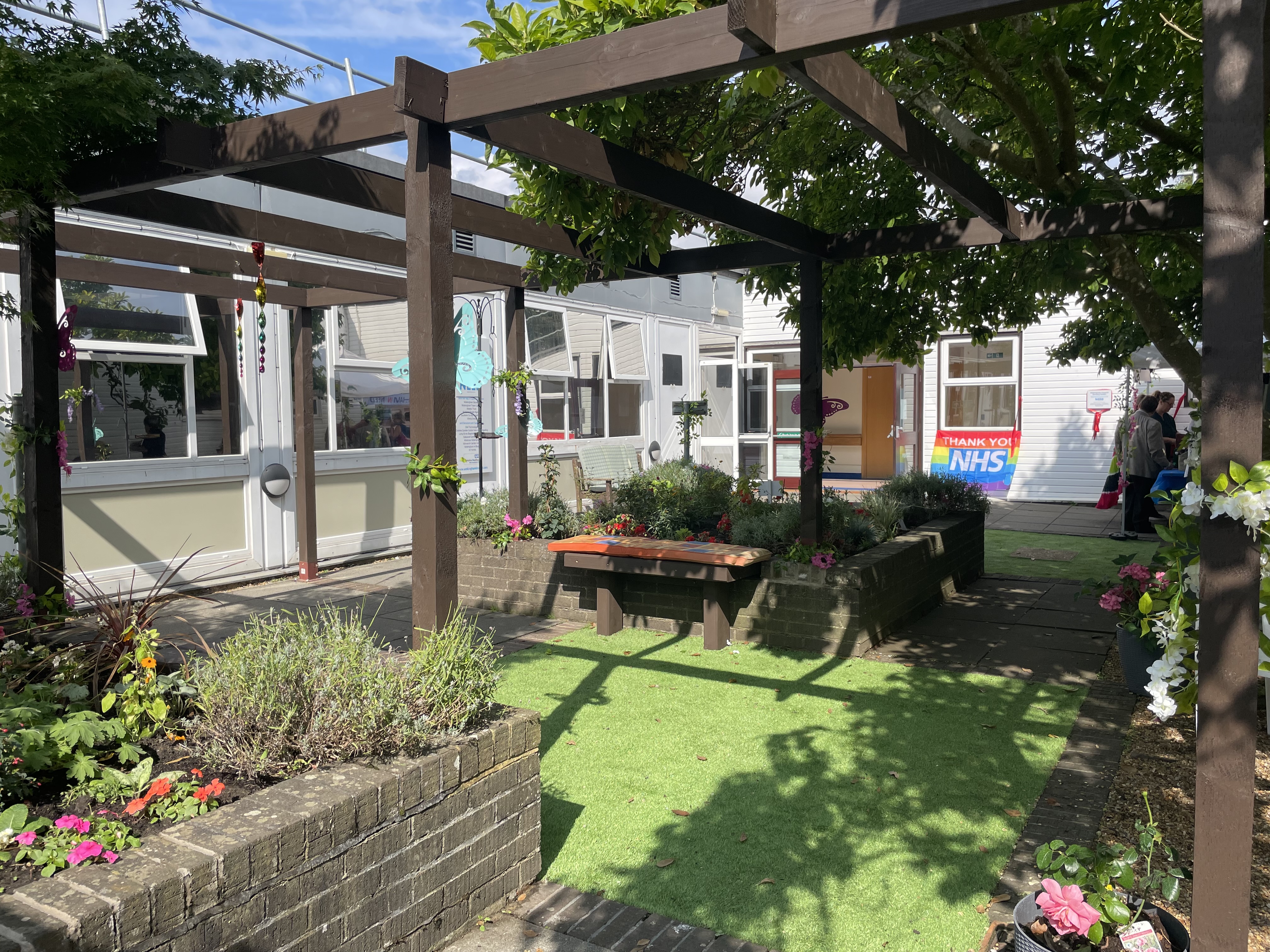 Berkshire Healthcare is proud to announce that with the support of local charity Wokingham in Need (WIN), a new sensory garden has been built at Wokingham Community Hospital for patients, their families, and staff to enjoy.
Known as the Ascot Garden, the garden is made up of raised beds planted with flowers and a patio and pergola to be used as a seating area. The space has been created to stimulate and engage the senses and aid relaxation, through sight, sound, smell, and touch.
Volunteers from WIN, Wokingham Town Council, Dell Technologies, and other community groups all helped make the garden a reality for the local hospital.
The garden was officially opened on Friday 1 September by Caroline Collins, a former patient at the hospital. Wokingham Borough Mayor Beth Rowland and Wokingham Town Council Mayor Sally Gurney were also in attendance, alongside Berkshire Healthcare Chief Executive Julian Emms.
Ellen Bowley, Inpatient Service Manager, from Berkshire Healthcare NHS Foundation Trust said: "Sensory gardens are proven to help health, mood and cognition, so to be able to provide a space for our patients, their families and our staff, to spend time outside in the fresh air is fantastic. Our care shouldn't be constricted to the four walls of the hospital, and the garden offers an array of holistic benefits from sensory stimulation to a calming therapeutic space for people to take a break and recuperate."
Sue Jackson, Founder of Wokingham in Need said: "Wokingham in Need are proud to have created and funded this new sensory garden, with the help of our supporters. Much work has taken place and from a blank canvas, a wonderful area has evolved which will prove of great benefit to the patients, staff, and general public by providing a calm area to reflect. We will continue to support the garden and work alongside Berkshire Healthcare to enhance the area even more. Thank you to all volunteers, friends of WIN, tradesmen and companies that have assisted with this project."
Find out more
More information about visiting Wokingham Hospital (opens in new window)
Photo gallery